With
me Beauty Center
4386 Sheppard Ave E, Unit W2
Scarborough, ON M1S 1T8
416-297-7488

Withme Beauty Center
is under new management, completely refreshed with new exciting ladies.

When you desire some pampering and relaxing stress relief, you have found the right place. We want nothing more to ensure that your visit is a completely satisfying one.

Come and enjoy a relaxing and satisfying massage today with one of our caring and attentive ladies.
With
me Beauty Center
4386 Sheppard Ave E, Unit W2
Scarborough, ON M1S 1T8
416-297-7488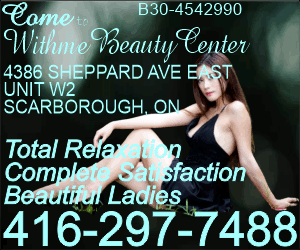 REAL pic of Ruby:
REAL pic of Ruby: