BRIGHT LI
FE SPA, Markham
(905)
604-8186
a
nd
L
EMON TREE SPA, Scarborough
(
647) 348-2899
​
BRIGHT LI
FE SPA is open from10 A.M. TO 4 P.M., 7 days per week.



LEMON TREE SPA

opens at 10:00 A.M., 7 days per week.
BRIGHT LI
FE
SPA
has just opened
at 50 Lockridge Ave in Markham,
1 block west of Warden and 16th Ave.
LEMON TREE SPA
is newly renovated
on Sheppard Avenue just west of Midland Ave.
Come inside and relax. Parking is free.
Our caring attendants provide the best services to make your relaxing massage experience as luxurious as possible. You will be treated like royalty the way you deserve. Choose your pretty Asian attendant from a nice variety of attractive pleasant ladies.
BRIGHT LIFE SPA
50 Lockridge Ave, Unit 6
Markham, ON L3R 8X4
(905) 604-8186
(West of Warden & 16th Ave)

LEMON TREE SPA
4155 Sheppard Ave E, Unit 201
Scarborough, Toronto, Ontario M1S 1T4
(647) 348-2899
(Sheppard and Midland Ave)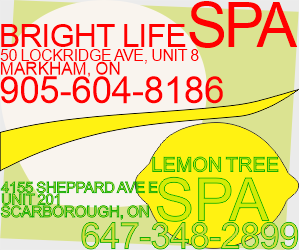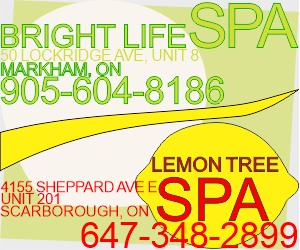 ​