WE ARE PLEASED TO WELCOME YOU TO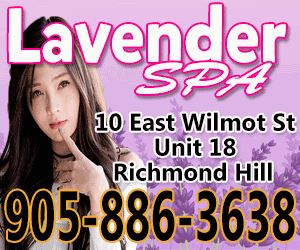 Lavender Spa
Richmond Hill
905-886-3638
10 EAST WILMONT ST UNIT 18
BEST MASSAGE


WE OFFER TOP NOTCH RELAXATION MASSAGE, AS YOU WALK IN, YOU WILL NOTICE TOTALLY TRANQUIL NEWLY DESIGNED SPA AMENITIES.
COMPLETE LUXURY AND TOTAL STRESS RELIEF WILL GREET YOU UPON ENTERING OUR SPA.

OUR HIGHLY TRAINED AND EXTREMELY FRIENDLY STAFF WILL GO OUT OF THEIR WAY TO ENSURE YOU STRESS IS GONE BY THE END OF THE SESSION AND YOUR SPIRITUAL BALANCE IS RESTORED.

CALL US TODAY AT: 905-886-3638

COME VISIT US, ALL STAFF HAS BEEN FULLY VACCINATED AND FOLLOW ONTARIO HEALTH PROTOCOLS TO ENSURE OUR GUEST'S SAFETY.

WE WELCOME YOU AT OUR SPA 7 DAYS A WEEK
10AM-10PM

WE OFFER FREE AMPLE PARKING

OUR STAFF:
Coco. Exquisite and plump body, long hair, young. Sexy and slim.
Vicky. Student girl, young, lady style, good English
Amy, plump, small, mature and sexy, good English.
Yumi. Young girl with exquisite figure, full breasts, good massage.
Selina. Young girl with a slender figure and a lady.
Apple, young and lively, plump, Korean massage technique
Helen, tall, slim, mature and sexy
Alice. Mature and attractive, good massage.
Sofia, young school girl, youthful and beautiful, good massage.
Every masseuse is screened and tested before being able to work.
ARE YOU STILL READING THIS? WHAT ARE YOU WAITING FOR, CALL NOW TO BOOK A SESSION.
WE ARE WAITING YOUR CALL
​